| əˈbout |
Descendant of Thieves is an NYC-based indie menswear brand founded in 2009. Our non-conformist approach is to manufacture in limited batches of approx 200 units per style (+/-) by a select team of master tailors rather than the traditional assembly line process. This more complicated way of manufacturing ensures elevated quality standards. It keeps to the brand's mission of making you the most interested person in the room by wearing clothing not commonly found in the market. We release new products every Friday at noon (est) online and in our NYC retail locations. With select worldwide distribution, Descendant of Thieves caters to the effortlessly stylish individual who demands to wear clothing as unique as they are.
|ˈdɪf(ə)rəns|
What makes us different?
LIMITED BATCH MANUFACTURING
As a small batch manufacturer, all styles are carefully constructed by hand in our workshop by a team of 12 expert tailors. By challenging the status quo of mass production, we can focus on the craftsmanship of the details while releasing a controlled amount of product. Each garment lists the number of units made per style and born date.. 
WEEKLY PRODUCT LAUNCHES
Enter the world of Fresh Friday, a tribute to the art of style. Every Friday at noon (est), we release new products online and in-store. To get weekly updates join our mailing list Here. 
SINGLE RELEASE STYLES
With a primary focus on single release pieces, we do not reissue or restock our garments after they are sold out. Those who wear Descendant of Thieves inherently become members of an unspoken and stylish society of outsiders. We don't sell clothing; we sell the power of differentiation.
|ˌnɒnkənˈfɔːmɪst|
Don't wear this brand
Descendant of Thieves does not design clothing for everyone. We make a limited number of interesting clothing for a limited number of interesting people. So, let the few styles in circulation go to the non-conformist and independent thinkers... the cult of individuals who are the needle, not the haystack. If this is not you, there are many other brands to choose from.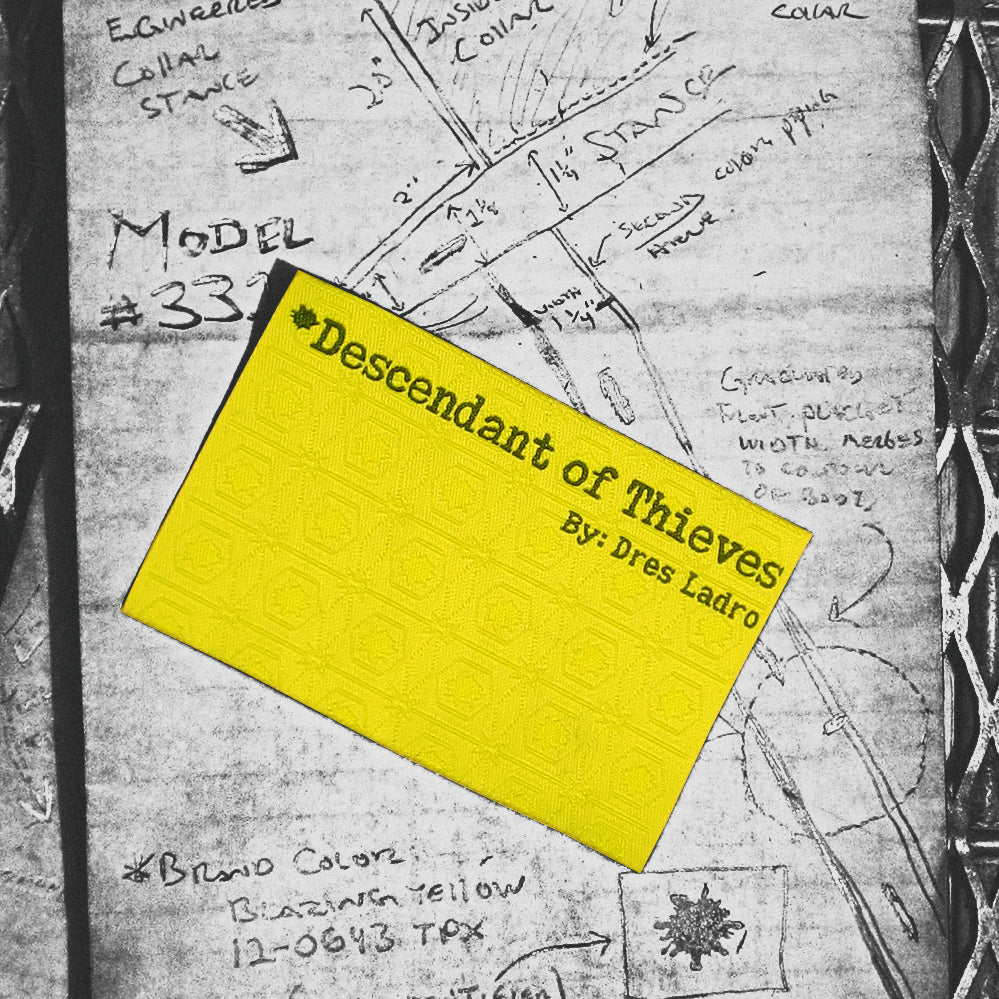 |Nām|
The brand name is inspired by designer Dres Ladro. The word "Ladro," translated from Italian, means thief. Thus the name, Descendant of Thieves came to be.
|Lōɡō|
The logo is the shape of an ink dot and is inspired by the Descendant of Thieves acronym: D.O.T. It was designed to have a dual meaning, as it abstractly resembles a genealogy (family) tree and is attached to the idea of descending from a lineage of thieves.
| dɪˈsɛnd(ə)nt əv THēvz |
"We Don't Sell Clothing, We Sell the Power of Differentiation."
¿DRES LADRO?
Descendant of Thieves was born after a chance meeting between Dres Ladro and Matteo Maniatty. Both shared a vision for individualism, countering mass brand appeal. Dres agreed to pair up but only under the condition that his real name and identity remain hidden behind the nom de guerre, Dres Ladro.
Dres' interest in design can be traced back to his childhood when he would steal clothing from his father's closet. He would de-seam and reengineer the entire garment to create a look unlike any other. When Dres' father discovered his son's mischief, he lashed out, calling him Ladro -Thief in Italian. The vilified nickname stuck.
Dres still designs and wears only his own clothing, as to never shadow anyone else's style. This line of thinking has become the brand ethos and logic behind limiting production output of Descendant of Thieves clothing so others can feel that sense of exclusivity.
|kɑːst|
As an independent brand, Descendant of Thieves is owned and operated by a cast of characters: Matteo Maniatty (Creative Director), Dres Ladro (Design), and Suwana Perry (Operations).
DESCENDANT OF THIEVES
NEW YORK

STORES
203 Bleecker Street, New York
247 Mulberry Street, New York

DESIGN STUDIO
Undisclosed Location in NYC
We Can't Tell You Everything